Listen to the full interview on our podcast!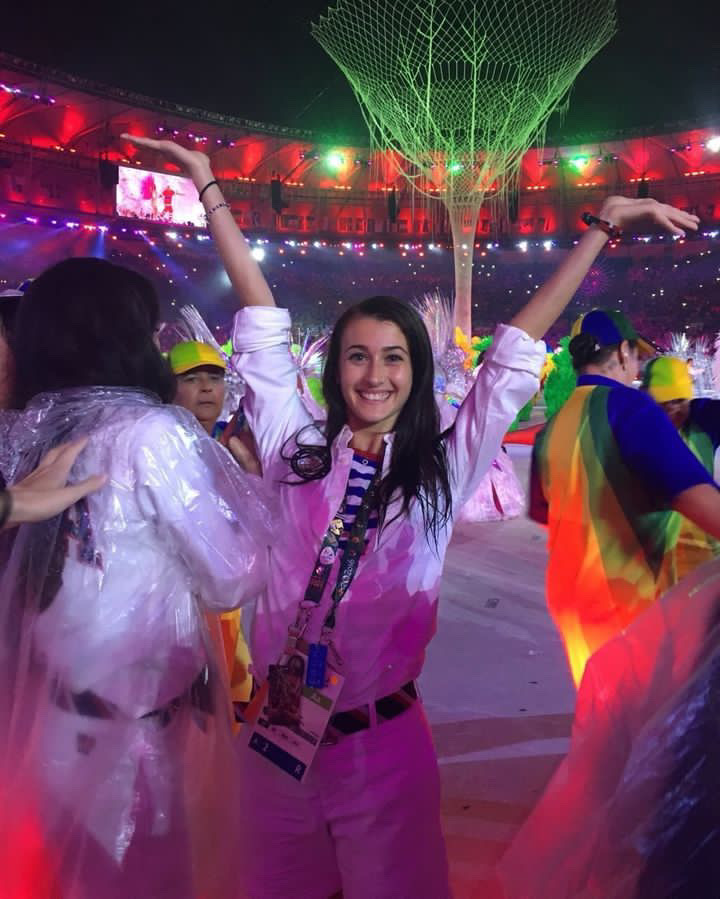 Natalie McGiffert is a former USA national team rhythmic gymnast. A Southern California native, she made history as a member of the 2016 rhythmic group gymnastics team that gave Team USA its first ever earned Olympic spot for RG group. She was also a member of the 2015 Pan American Games team that won two silvers and one gold medal. Natalie was a competitive gymnast for nearly 13 years and now works as a full time employee at LA28, which is the Los Angeles Olympic and Paralympic Organizing Committee for the 2028 Games.
Q: What age did you start rhythmic gymnastics and how did you get into it?
A: I started rhythmic when I was just turning seven. I got into rhythmic completely by accident. My mom won some raffle tickets at my elementary school fundraiser, and they were for free gymnastic lessons. At the time, I was already doing artistic gymnastics, and I was doing a boatload of other sports: surfing, rock climbing, karate, like anything you can think of at the time, I was doing. I went to do a trial class to see what level for artistic [gymnastics] I would be in. During that class, I was watching the rhythmic girls practice during my lesson, and I was just mesmerized by the ribbons. I wanted to go play with them immediately. 
Q: How did you get selected to join the group USA rhythmic team?
A: I was actually invited to go to a group training camp in Chicago. This was following nationals, I had just missed making national team that year. Carolyn Hunt, who's the head of the [USA] rhythmic program, was really intent on getting a full delegation to the Olympic Games. So part of that was beefing up the group program. After the group before us had all retired, they tried a new initiative of inviting girls that were close to national team or national team level to a camp and inviting them to join group. It was entirely my decision, and we moved to Chicago in 2012 so that I could pursue my dreams.
Q: What was that transition like from individual rhythmic to group? 
A: I think group really goes back to technique. You have to have a good base level of technique, whereas for individuals, you can wing it a bit more. With group, you really can't wing it, since you are tossing to somebody else across the floor. It has to be precise and exact every time. That was really different for me because I had pretty good technique, but I didn't have the same level of technique that I felt that a lot of the other girls brought.
Q: What was your favorite apparatus or combination of apparatus?
A: I really liked hoop and clubs because there was just so much that you could do with it. I have a love-hate relationship with hoop. It's so dynamic. And I think that it's a good apparatus that a lot of people have access to. You can play with the hula hoop and learn tricks with it. But I also think that it can hit you and roll off the carpet, so sometimes it's not my favorite. 
Q: Talk to me about five ribbons. Like how often would it get tangled with each other?
A: I mean, the goal is to not get tangled. We had really starched ribbons. We would starch our ribbons pretty much every practice. And I just remember ribbon being the most exhausting routine because it's so much work from your arms, not only controlling your movements, but having to keep the ribbon moving and off the carpet. I think ribbon is definitely one of the most challenging events for group.
Q: Would you say that in group rhythmic there's room for more creativity in terms of what you can do with other people?
A: I think that's something that really excited me about group rhythmic. There's so much you can do, it's almost like, how do I fit it into a two and a half minute routine? It was so exciting to create our routines. It really was a whole production to create a routine that is exciting and eye catching. Like, yes, you can toss it this way. But what if we tossed all three going in a different direction? You know, creating that visual for the audience and making sure it's entertaining. 
Q: Did you go to public school alongside gymnastics? 
A: I went to public school my entire education, for elementary school to high school. Luckily, when I moved to Chicago, the school system was a little bit more willing to work with us. My teammates and I all went to the same high school. We didn't have to do P.E. and had another independent study period, so we had more time to do homework. We went directly to the board of education to help with our traveling and getting work ahead of time. I did have teachers that were very much on our side and cheering for us. I really credit our parents for being such advocates for us and helping out when we needed the extra support.
Q: Tell me about your mental, emotional, physical state leading up to during the Games. 
A: I mean, it was everything you could think it is, and more. I just remember trying to mentally prepare myself for it. It got to the point that I was like, there's nothing that's ever going to compare to this; this is the apex of my entire career. That was a lot of pressure. But I said, "It's just like World Cup. We've competed against all of these same teams the last four years. We've had these routines for two years at this point, so there was a lot of consistency and stability and knowing what I could control." Group is unique in the sense that it's a group performance, but you are controlling your individual performance as well. So I needed to focus on what I was doing for my team and staying focused on doing just what I can do. It's overwhelming when you step out into the stadium, and you think of all the people watching on TV. Then I took a step back. Knowing what I could control in that moment really helped me focus. 
Q: How did you cope with performance anxiety? 
A: I struggled with nerves in individual gymnastics, because all the focus was on me. So joining group really took away a lot of my performance anxiety. Knowing that my teammates and I were going to be there out together, and it was going to be us at the end, no matter what, that really helped. And knowing that regardless of our performance, we made it [to the Olympics], we have made history just by getting here, so everything else is just extra.
Q: After the Olympics, some people experience the post-Olympics blues, or post- Olympics depression. They're training their whole lives for this one moment, and it happens, and it's incredible. And then it's over, so fast. Did you go through anything similar to that? And how did you cope with the transition out of the Olympics?
A: I feel so lucky to have had teammates that went through the same experience with me. I think a lot of that internal struggle comes from not being able to relate to anybody about it. I was able to talk about my experience and share it with them and have them feel the exact same way. So having that support system really made it a lot easier to transition out of sport. There was also excitement that comes with going to college and getting to explore other interests. I never really had the time to explore other interests beyond gymnastics. So finding out what subjects in school I actually like, and getting to take different classes was really exciting for me. I think I did miss gymnastics. But I really tried to separate myself from being an athlete and find myself more as who I am, not as an athlete. So for me, [leaving the sport] was more excitement than disappointment.
Q: What are some of those interests that you discovered after the sport?
A: I went to Loyola University Chicago and majored in psychology. I just love knowing why people do what they do. I think that also helped me cope with the come down of gymnastics by understanding myself better. I joined a sorority in college, so that was great. I met like-minded people and made more friends on campus. My mom and I actually started a small business making crochet swimwear, so I started crocheting a lot.
Q: After college did you immediately start working for LA28? Or did you do some other things before?
A: No, I didn't after college. I moved home, not knowing what was to come. I really threw myself into our small business with my mom, just trying to get that ramped up more and make more products. It was really great family and bonding time. And then in 2022, I was like, I need to figure out my career path moving forward. I actually got an email about the LA28 fellowship from the USOPC. They sent out an alumni newsletter, and it was talking about the fellowship and the application process. [The fellowship] is based in LA, which was great for me because I was living in LA. So I applied for the fellowship and I've never looked back. I started the fellowship last January. The Olympian and Paralympian fellowship with LA28 is for retired athletes, Olympians and Paralympians. They do two six month rotations within the organization, in different departments. I started in communications, and then stayed for six months, and then rotated to our games planning and delivery team for about three months before I was hired full time on the communications team. 
Q: What are some of your favorite memories and experiences working for LA28?
A: Having a community of athletes around me again is something I missed so much with my teammates, especially when we weren't seeing each other every day and having that camaraderie and shared experience. I've actually found that again with our fellowship program. It's really exciting to have a community of athletes all working for the same goal, and I think all of us find a lot of purpose and fulfillment with working for the Olympics and Paralympic Games. It's not something that I take lightly. That's why I really appreciate having the opportunity to work with the communications department, because it is creating the narrative for the 2028 games. It's like, how can we make the experience better for the next generation?
Q: What advice would you share for young gymnasts who have big dreams and want to go to the Olympics? 
A: I would say hold on to your dreams. You never know what can happen. Just keep focusing on yourself and your foundation of basics, because your basics are always going to lead you to higher and better skills. And dream big. Why not? Look where it led me.