I met UCLA gymnast Anna Glenn back in fall 2017. She and her identical twin sister, Grace, were both in my discussion section for Life Science 15, a prerequisite course for the psychology major.
One afternoon, I was walking behind the twins as we exited the classroom, when my eyes fell upon their matching blue backpacks, each proudly embroidered with the words "UCLA Gymnastics". A former gymnast and forever-gymnastics-enthusiast myself, I let my inner fangirl get the best of me. Wildly, I exclaimed, "Oh my gosh, you guys are on the UCLA Gymnastics team?!" The Glenn twins, slightly startled by my forwardness, turned around and laughed, replying in the affirmative.
I later learned that Anna and Grace were the same year in school as me—class of 2020. Both came into UCLA as biology majors, then switched over to psychology. Later, Grace decided to pursue sociology instead, while Anna stuck with psychology.
In the quarters that followed, Anna and I shared several classes—psychological statistics, research methods, health psych, cognitive psych. As I got to know her better, I began to understand why psychology was such a great fit major for Anna.
Personable, funny, and confident, this student-athlete has a natural ease around people that makes you want to be friends with her—and not just because she's a bad-ass UCLA gymnast. Beyond her charm and athletic prowess, Anna is a passionate individual who cares deeply about mental health, especially in the student-athlete community.
But before we get into Anna's work as a mental health advocate, let's backtrack and get to know her story.
Nanchang, China, April 27, 1998– Anna Furong Glenn and Grace Fugui Glenn were born. Soon thereafter, the identical twins were adopted by parents Cindi and Neil Glenn, who reside in Charlotte, North Carolina. It was there that the girls would spend the next 18 years of their lives.
As infants, Anna and Grace experienced developmental delays, particularly in gross motor skills. Their parents decided to enroll the girls in artistic gymnastics to help build their physical strength. So, at only 2 years old, the twins took their first baby steps into the world of gymnastics, unaware of how large a role the sport would play in their lives.
When asked whether she had Olympic aspirations from a young age, Anna replied, "Not really. To me, a sport is a hobby, and a hobby is something you do because you love it.
Balance in life was something that always mattered to Anna, largely because she knew the risks of devoting everything to gymnastics. "If you know you're gonna make a living off of your sport, then it makes sense to put in everything [into the sport]. But gymnastics is really short-lived. Most gymnasts retire in their 20s. So to me, it's not worth putting everything into gymnastics, because at the end of the day, you can't use gymnastics as a living."
While the sport makes up a great part of her identity, Anna does not define herself solely based on gymnastics. "I don't really define myself as just a gymnast. Instead, I associate myself with different characteristics that I will never lose. For example, I tell myself, 'I'm a resilient person that went through all these things and came out on top.' It's more about the journey, rather than the labels."
Anna maintains that it was difficult to have this foresight when she was younger. "When you're young, you don't really see yourself doing anything but gymnastics. In elementary and middle school, I'd introduce myself to people as just a gymnast. Now, as a student-athlete, I realize that there is more to life than gymnastics."
Indeed, being both a student and an athlete has been a defining feature of Anna's life. Unlike many high-level competitive gymnasts, who switch to online school or home school to accommodate the demands of a rigorous training schedule, Anna and her sister remained in public school from K-12. With their skill level, the Glenn twins had the potential to go elite and represent their country internationally. In Level 10, Anna competed at the prestigious Nastia Liukin Cup twice, earning 2nd place all-around the second time. Her sister Grace shared similar successes. In spite of their achievements, the twins decided not to go elite. "Our bodies were already starting to hurt from repetitive training, and we really wanted to go to public school, as that was better for college. Most elite gymnasts are homeschooled, training 8 hours a day, and we didn't want that."
The summer after 8th grade, Anna and Grace began touring colleges in preparation for recruitment season the following year. Being academics-oriented people, the twins looked for schools that were strong both academically and athletically. They narrowed their choices to three: UCLA, Stanford, and Georgia. When asked what made UCLA stand out over other potential colleges, Anna said, "The coaches and girls were very welcoming and engaging. I agreed with the philosophy of the coaches and clicked with the team. UCLA had good academics, good gymnastics, good people. It had everything." So, in January of their freshman year of high school, the girls committed to UCLA on a full-ride athletic scholarship. Their future teammates would include Kyla Ross, Madison Kocian, Christine "Peng Peng" Lee, and Katelyn Ohashi— all giants in the gymnastics world.
When asked whether it was difficult, having had to make as momentous a life decision as choosing a university, so early on in her academic career, Anna says, "It was definitely a big decision to make at a young age, and I was initially more hesitant than Grace was."
Her transition to college was a rocky one, in large part because of a shoulder injury that sidelined her from competition all of freshman year. The injury happened during her senior year of high school, on a Labor Day practice. Anna had to get surgery in November 2015. Afterwards, she focused her energies on rehab, so she could recover in time for collegiate gymnastics. She arrived at UCLA mostly healed, only to tear her shoulder again during pre-season training.
"I was super devastated. I was in a terrible mental state… depressed. I gained weight. [Coming to UCLA] was a transitional phase. I moved to a whole other state, didn't have many friends, and wasn't super integrated with the team. I had surgery again in January 2017, and wasn't able to travel to competitions. I lived with this feeling of being an outsider. I felt useless for a lot of that time. I wanted to do more and help the team, but physically I wasn't able to. I didn't feel like I had a place on the team, because I hadn't proven myself yet."
Looking back, Anna says she "didn't cope as well as [she] would have liked to." But she recognizes the silver lining in her struggles, saying, "The adversity made me resilient. It was the hardest year of my life. If I could get through that, I can get through anything."
Things quickly looked up for Anna, after her hellish freshman year ended. The following year, with her shoulder healed, Anna was able to compete with her team, making the lineup for vault, bars, and beam. That year, UCLA won the NCAA Championships, becoming national champions for the 7th time under the guidance of decorated coach, Valorie Kondos Field. Anna helped contribute to the team's success; she was the top scorer on vault each day at nationals, scoring a 9.85 in the semifinals and 9.8875 in the finals.
When asked what she thought made that year special for the team, Anna replied, "The concept of that year was: do it for the team. We are a team established on love. Everyone is so closely knit, it's incredible. Winning nationals was the goal, but we thought of it as a long-shot. It wasn't something like, 'We have to do this'. The main thing was to go through the year with no regrets, and make sure all of our investment and intention was for the team and for the school. At nationals, when we found out we won, there were a lot of emotions… lots of crying. It was a huge moment for the team to reach that end milestone. Everything we did up until then was completely worth it."
Their victory was hard-fought and a testament to the power of an unbreakable team bond. "It wasn't a perfect meet," Anna said. "We started out slow on floor and vault. Chris gave us a speech before bars. We delivered the best bars set of the entire season. We then carried that momentum to beam. Every person on the team contributed. It was like pieces of a puzzle coming together. If there was a fluke, someone else made up for it. We are trained to stay in our "Bruin Bubble", which means being present with the team. No distractions. The energy, atmosphere, and feeling of our team is fun! Because of that, the entire season is fun."
Indeed, the Bruins stand out amongst other collegiate teams of similar caliber, not because of their competitive success, but because they are able to achieve such success in a positive, fun, healthy environment. "A positive mindset carries you far," says Anna. "You can't beat yourself up or use negative energy. An optimistic mindset is one that needs to be spread more. I want to use my status to show the world that that is how it should be."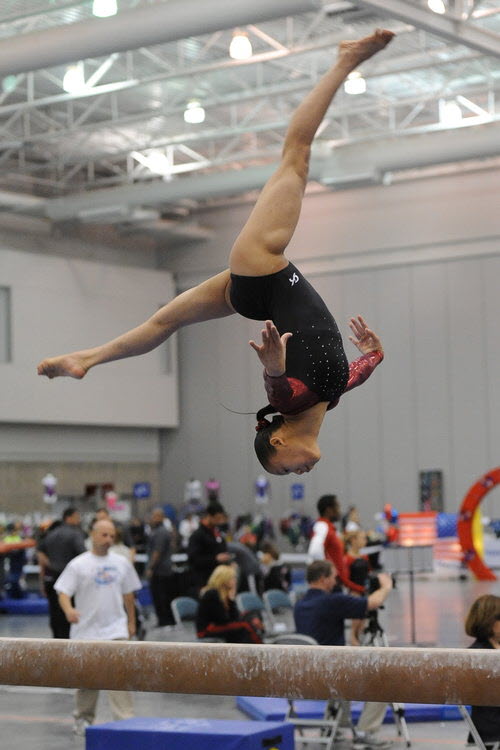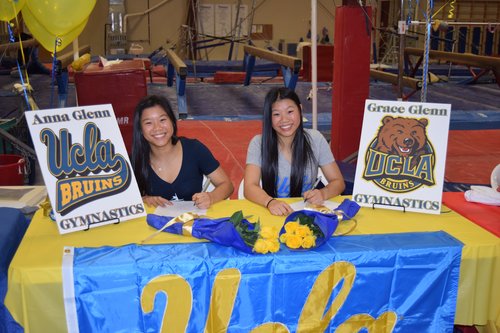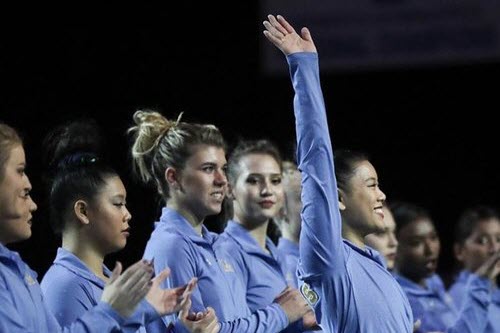 She states that one of the differences between club gymnastics and collegiate gymnastics is the environment and coaching style. "There's a healthier coaching style in collegiate. I personally had a great relationship with my coach back home, but I do know of a lot of abusive coaches in club gymnastics. [These coaches] don't know how to handle young girls. They place lots of blame on the athlete, and there's a lot of miscommunication. In club gymnastics, coaches are always hard on their athletes, in a 'tough love' kind of way. It's a culture, and it's hard to break that culture, because coaches find it hard to see any other way of coaching. It doesn't need to be that way." When asked how she thinks we can change the abusive culture of club gymnastics, Anna says, "I think it's important for college gymnasts to go back into coaching, or at least share their collegiate experiences with club gymnasts and coaches. It really sucks that [club gymnastics] is the way it is, and I disagree with the way that things have been handled. People should speak out. Girls are trained to not say anything. They are programmed to be obedient, like a dog. They don't want to defy authority. It's hard to break this vicious cycle because no one wants to speak up."
Anna adds that in collegiate gymnastics, athletes have a lot more outside support and resources to utilize, from nutritionists, to trainers, to sports psychologists. "We have coaches who are there for you. We have a team-oriented mindset. We're representing something way bigger than the individual, so they really want to invest in you."
Beyond environment and coaching methods, club gymnastics differs from collegiate gymnastics on a fundamental level. "Club [gymnastics] is all about numbers, with gymnasts putting in so many hours a week for training. It's about finding your style, and basically learning how to do gymnastics. Collegiate is a lot more mental. Your body is starting to deteriorate, and you only have so much time for training, since you're also a student. You train your mind to compete in such a way that you don't need as many numbers or hours. It's cool to see how strong the mind is. We use cues, which are things you say to yourself before a skill. This method promotes consistency. We can be consistent without putting in the same numbers as we did in club. In collegiate, you learn how to deal with distractions, since there are a lot more distractions in college– relationships, money, academics, social life, clubs, social media. You learn how to block out the negative and use the positive as fuel."
Finding the perfect balance between life as a student and life as an athlete has been one of Anna's biggest challenges at UCLA. "I wake up every morning between 6:00-6:15am. I pack my stuff for class and practice, then head to the training room, where I eat breakfast. Before practice, I receive treatment. Practice starts at 7:45am and goes until 11:30am. We can only have classes in the afternoon, which is why student-athletes get priority enrollment to get the classes they need for their major."
Being a student-athlete at UCLA has shaped Anna into a master of time management. "In college, you are more than just an athlete. You are juggling two very important things– school and sports– and you're putting equal time and energy into both."
What is her secret to managing? "I have to be able to do work in between classes. I can't stay up until 3:00am doing homework because I have training in the morning. I go to bed each night at a reasonable time, from 11:00pm to 11:30pm. I have to be very organized and write out my schedule for each day. You learn to work in little time slots and not waste time."
Between training, classes, competitions, and exams, it is difficult to imagine how Anna could have time to herself. "It's hard to find downtime. Sometimes I give myself an hour to watch Netflix, but [downtime] is very limited. One thing Miss Val taught us is to schedule our downtime. She calls it 'sabbath rest'. The rest that you get is used to fuel your energy for the next day."
In many ways, gymnastics has made a positive impact on Anna's academic life. "Gymnastics helps me academically, because [the sport] taught me to want to be the best in every aspect of my life. It taught me passion. If you have the passion, you're gonna put 110%. When you're in a sport for so long, you know what it means to be passionate."
When asked what she loved most about gymnastics, Anna says, "I love the community. It's a lot of fun to see former teammates at [collegiate] competitions. You compete with the same people and have friends from all across the country. I love the relationships you form within such a close knit community. I always want the best for everyone. Gymnastics is such a dangerous sport, you want people to be okay. Everyone is in the same boat."
As much as she loves her sport and its community, Anna admits that sometimes, she wishes for more time to pursue interests outside of gymnastics. "Gymnastics takes up so much of your time, and it's hard to find a life outside of it. It's just school and gym, all your life. These days, I'm finding more interests outside of gymnastics, like photography and mental health. But it's hard to find time to branch out and explore these interests."
This past year, however, Anna has been able to integrate her life as an athlete with her passion for mental health advocacy. She is involved with an organization called Student Athlete Mentors (SAMs), which addresses mental health in the student-athlete community. "Many student athletes face mental health issues, and even commit suicide," says Anna. "The issue is more relevant now than ever. A big part of it is a pressure problem. Athletes face so much external pressure from coaches, teammates, parents, social media, and many don't know how to channel the pressure. They internalize the pressure negatively, and get overwhelmed. People cope in different ways. Sports psychologists and CAPS [Counseling and Psychiatric Services] work with student athletes, but not many people like to admit to getting help. Athletes want to look like they have full control. They are programmed to not show signs of weakness, and having mental problems and not being okay is seen as a sign of weakness that people don't want to show."
In December 2018, former UCLA rower Natalie Puente took her own life. This tragedy sparked a widespread discussion of mental health in the student-athlete community.
In February 2019, UCLA hosted an art gallery called "Shattering the Silence", in honor of Natalie's passing. The gallery featured artwork dedicated to and inspired by mental health struggles people face every day.
On March 14, 2019, UCLA Athletics released a PSA video centering on the topic of mental health in sports. The video, spearheaded by Anna, features UCLA athletes across all sports disciplines. Boasting over 16,000 views on Facebook alone, the video is intended to kickstart the student-athlete mental health campaign at UCLA, entitled #BruinBrave.
One of the campaign's mission statements is to reframe the way people think about mental health. "You have to treat your mind the way you treat your body," Anna says. "Mental health is just as if not more important than physical health, which is why I want to push for a mental campaign at UCLA. I want to build a more resilient student-athlete community so we can perform at our peak." She is inspired by Towson University gymnast Olivia Lubarsky, who started a mental health campaign at her university called "Own Your Roar".
In addition to SAMs, Anna is involved with another on-campus mental health organization called Bruin Mental Health Advisory Committee (BMHAC), which focuses on improving the mental health resources available for all Bruins. The organization is currently working to design an app to help students cope with daily stressors and promote healthy living.
At this very moment, Anna is focused on competing with her team, which is scheduled to compete this weekend at Anna Arbor, MI, for the NCAA Regionals. This season is a special one, as it is head coach Valorie Kondos Field's 29th and final season with UCLA Gymnastics, before she retires. The Bruins have performed brilliantly thus far, most recently winning the Pac-12 Championships in March.
If there is one thing Anna learned from being on the UCLA Gymnastics team, it is how to incorporate fun as a key ingredient of success. Her biggest advice to young athletes out there is: "Enjoy the process and have fun with it. The worst thing you can do is be in a robot state of mind. It's important to find ways to have fun at practice. Use your teammates to back you up. Make a game out of practice and use fun as incentive. You'd be surprised as to how much you can get done when you make work fun. You become more efficient, and you don't risk burning out."
The idea of having fun as a competitive athlete can seem completely counterintuitive to many, especially those trained with a "no pain no gain" mindset. Anna notes that many gymnasts face an exorbitant amount of pressure to be perfect, in part because of the dangerous nature of the sport. "Gymnastics is one of the most mental sports that requires a high level of concentration. It's so precise, and your life's on the line. What it takes to be number one in gymnastics is perfection."
Anna notes that too much of this pressure and perfectionism can be counterproductive and detrimental to an athlete's mental health. "Having a perfectionist lifestyle can be hard internally because you're putting a lot of pressure on yourself, and you also face added external pressure. You beat yourself up when you fail, and don't know how to handle not being the best. With time and practice, though, you learn and are able to switch to a healthier mindset."
Clearly, Anna has grown tremendously during her almost-three years at UCLA. Looking back, she says that coming to UCLA was "the best decision she made in her entire life."
While she is not completely sure of what she wishes to do after graduation, she knows it will be related to the field of psychology. "I'm super passionate about the psych major. I want to do something in that field. I need a break from gymnastics. I love it, but I also want to be exposed to something that's different. I'm embracing the uncertainty and am receptive to everything that comes my way. It's an exciting time!"