Rosemary Le is a multi-hyphenate circus performer who specializes in aerial hoop and aerial cyr wheel. She was a PhD student at Stanford University when she first discovered aerial arts, which served as a creative outlet during a time of high stress in academia. In 2019, Rosemary began working as a contractor for Facebook as a UX researcher. Amidst the demands of her full-time tech job, she poured herself with equal zest into circus training. Research scientist by day and circus performer by night, Rosemary lived a double life which afforded her the financial freedom to live her artistic passion without the looming pressures of making money through art. Still, she often felt spread thin between the tug of her two livelihoods, both equally important to her in different ways. At one point, she considered saving some funds to take a circus "sabbatical" which would enable her to pursue her passion full time. Rosemary was unexpectedly laid off from her job at the end of 2022, an experience she took as a sign from the universe to devote herself full-time to her circus career. She has since been living her best life as a traveling circus performer, soaking in each moment of her singular journey. From scientist to circus artist, Rosemary embodies an individual who lives her truth, follows her curiosity, and leads with her heart as her compass. 
This is her story.
Growing up, movement was Rosemary's chosen language of expression. She enjoyed gymnastics and dance, which she pursued with her identical twin sister, younger sister, and younger brother. 
Rosemary inherited her love of dance and art from her mom and her analytical proclivities from her dad. She loved mathematics and how it felt to be a "language of the universe", and received her degree in Applied Mathematics from Brown University (2009-2013). When she took a visual perception course during spring of her junior year, her academic focus shifted from mathematics to neuroscience. She became fascinated with the visual system, particularly with the act of reading — where mere strokes and lines have the potential to transmit knowledge, convey meaning, even alter physical and emotional states. She wanted to understand the neural basis of this phenomenon, and felt a calling to help build retinal prosthetics to help the blind. This motivated her to pursue her PhD in cognitive neuroscience at Stanford University (2013 – 2018). 
During her first two years of graduate school, Rosemary joined a modern dance company called Bent Spoon Dance Company. In 2016, Rosemary took her first aerial hoops class at Inspiration Studios in Redwood City, California, and immediately fell in love with the craft. Aerial came at a time in Rosemary's life when she was less happy and motivated, and unsure of who she wanted to become. "Grad school was very challenging for me. I went into it so excited and full of passion, I was certain that I wanted to become a professor. But I learned after my first year that academia wasn't for me. It felt like I was just going through the motions, like there wasn't any purpose to doing the work. I felt like I needed something to distract me from my unhappiness. When I found the aerial arts, I found something I didn't know I needed. When I was doing research, the feeling of progress and meaning was lacking. But I found that in aerial arts, where I would stretch and get more flexible, or condition and get stronger. There was also creativity, drive, and always something to look forward to – my next class, the next open studio time where I could train what I learned in class, all while being surrounded by a community of like-minded people. Finding the aerial arts shifted my mood and my outlook on life completely. It gave me the confidence and energy to do better work as a scientist as well."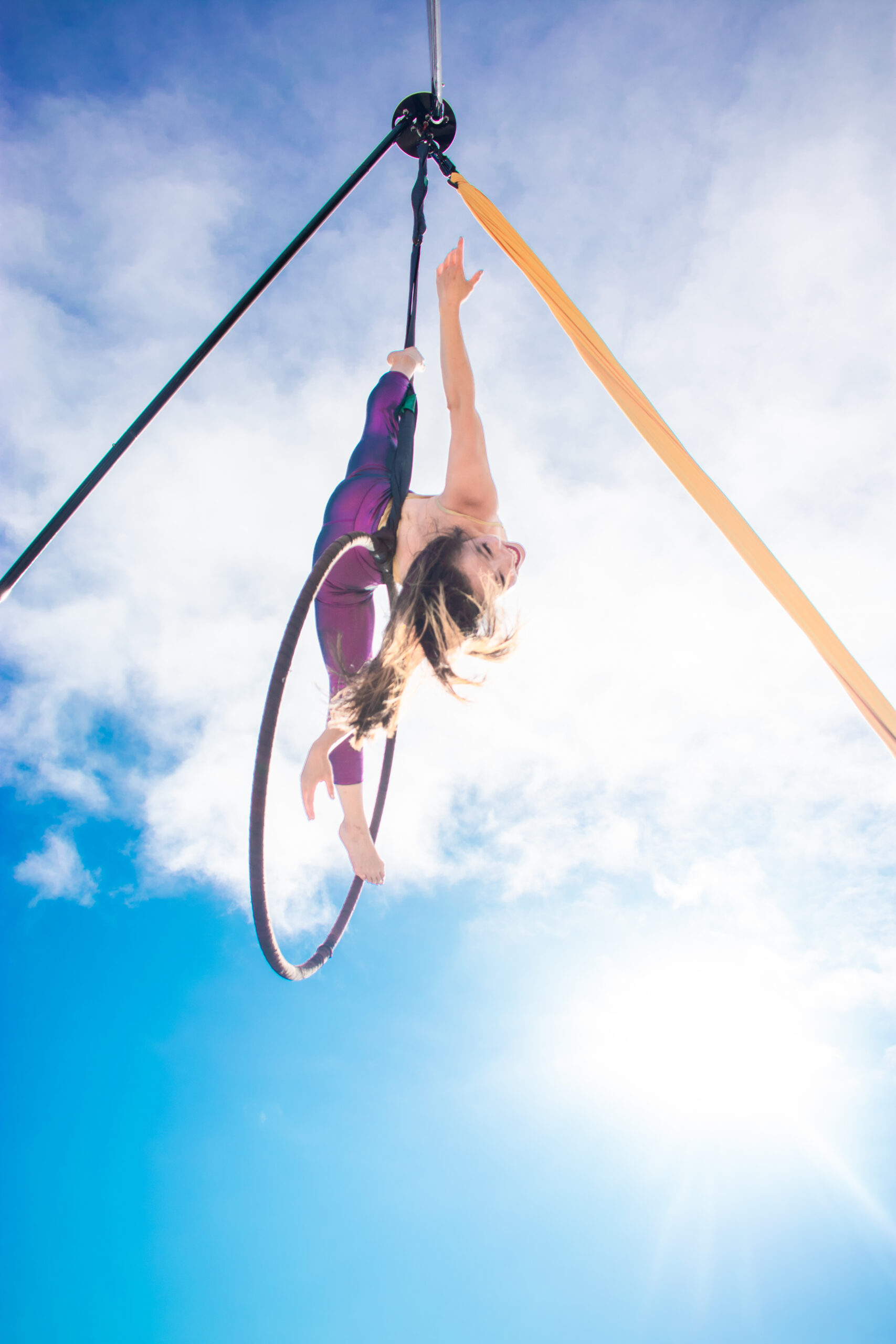 Rosemary began performing aerial in 2018 and found enjoyment in the creative process of putting together her own acts. In December 2019, she discovered the esteemed Circus Center in San Francisco, where she expanded her movement repertoire to flying trapeze, contortion, and other circus arts disciplines. "Discovering the Circus Center was what planted the seed of taking dedicated time off to focus on training and performance. I was planning to be there all the time outside of my day job, but of course those plans were derailed when the pandemic hit. In a stroke of luck, I found  this amazing apartment that has overhead steel beams which enabled the aerial training, and I transformed my living room into a dance studio so I could practice my flexibility and contortion and dance. I was fortunate to keep training in 2020. And so when things opened back up in 2021, I was able to perform."
Asked about the difference between performing an aerial act versus performing a dance routine, Rosemary says, "I guess it feels different from dance in that it's usually a solo act. So I pay more attention to facial expressions and performance I give to the audience. There's an additional dimension to aerial, which is the height and the spinning. I describe it as higher dimensional dancing." 
In the beginning of 2019, Rosemary was hired as a UX researcher  contractor at Facebook. She shares how she managed to juggle her full-time job and circus. "I defended my dissertation in 2018. I started at Facebook as a UX researcher at the beginning of 2019. And so the whole of 2019 was very much focused on work because I was motivated to become a full time research scientist. I was still training and performing, but it was less the focus of my life at that time." 
The hard work paid off, and Rosemary transitioned into the research scientist role at the end of 2019, which was also when she discovered the San Francisco Circus Center. "I was now in this new position that I worked so hard for, but also felt like a lot of my thoughts were consumed by the circus arts. I was constantly thinking about my training or the classes I would take and felt like there were so many circus and art-related projects I wanted to pursue. In some ways, the pandemic was a blessing because it afforded me more time to train and pursue the arts." 
Rosemary's first performance following the pandemic was at the San Francisco Great Star Theater, where she performed at a fundraising event and met the new owners of the theater. From there, she performed in the Great Star's Theater Over the Moon and Magic Tea Shop, in Paul Nathan's Dark Kabaret, toured with Circus Royale Spectacular in the Greater Los Angeles area, and performed with Dahlias Entertainment in the Bay Area and beyond. Through her various performing gigs, Rosemary had the opportunity to meet fellow circus artists and professional performers and hear their stories. "I think it illuminated how it's not all rainbows and butterflies pursuing the arts as a profession, just because financially, it's just not as secure compared to a tech job. Seeing the stress it would bring some of my friends and acquaintances had me realize that I don't want this thing that brings me so much joy to be a source of stress. And I'd rather not have enough time to do it and still have it bring me a lot of joy, versus banking my livelihood on it, and have it be a chore."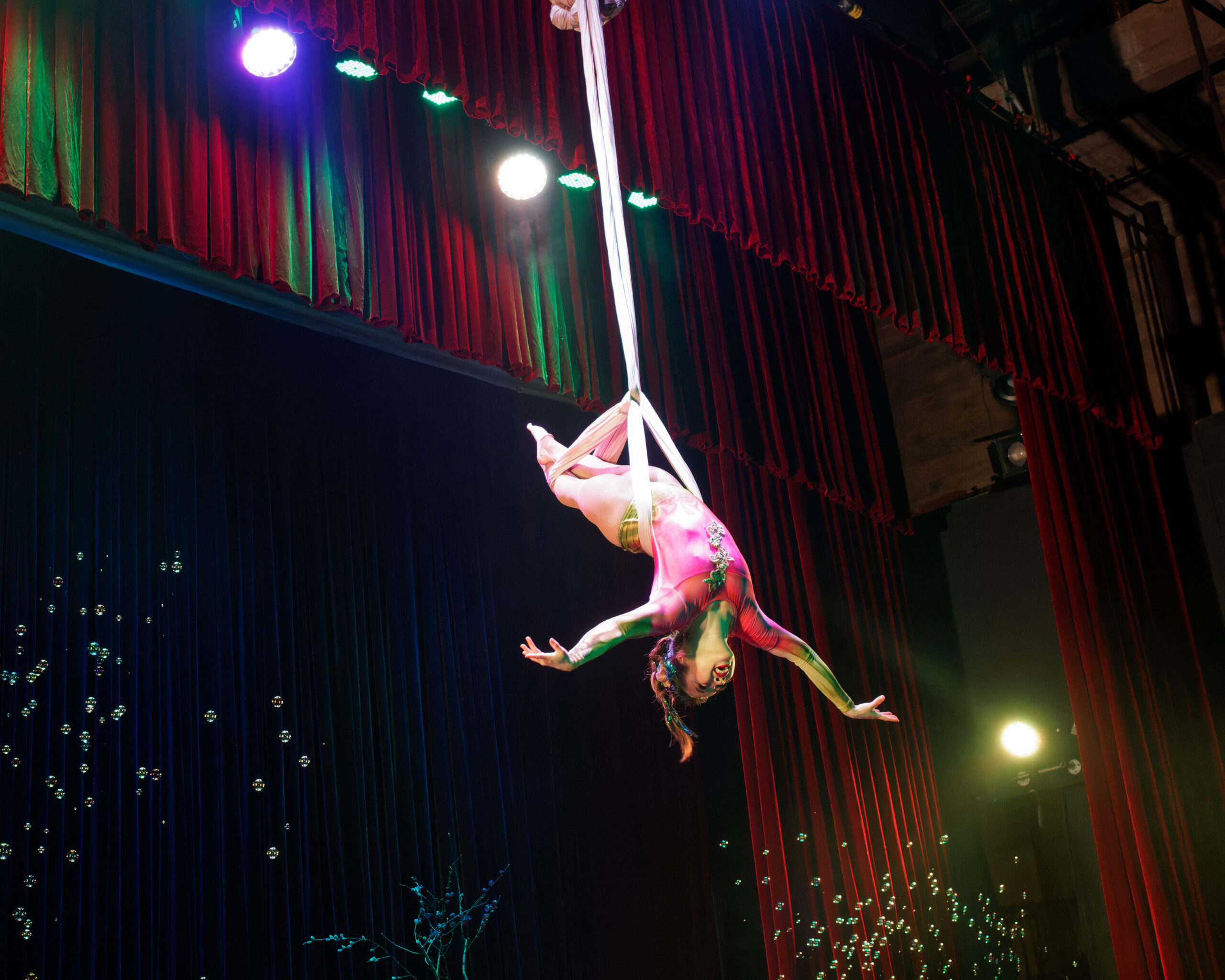 Rosemary was happy with her decision to work full-time at Facebook whilst pursuing circus as a serious hobby. Then came the wave of tech lay-offs at the end of 2022. "It's interesting how life works out because I was starting to love my job again. And then the layoffs came at the end of 2022, and I was part of the layoff wave. I was very sad. But I was also so excited. In 2022, there'd be periods when I was overwhelmed trying to balance self care and also working and training. And so when I didn't have to focus on work anymore, it felt like a weight off my shoulders, and I felt like this was exactly what I needed in this period of life. I'm 32, and there's a short window of really maximizing training and getting the most out of it."
She reflects on her time at Facebook and the intrinsic enjoyment she gained through her work. "I remember when I was first starting to love my job again. The work was challenging but I loved the flow state that I'd get into while doing it. It required me to turn my phone off and be in this focus mode, which was actually so enjoyable. It reminded me of how grad school could have felt like. I believe the energy you put into things and the quality of effort is shown in the output, it's present in the sum of all the little details. The experience of re-dedicating myself to work taught me it's important to intentionally decide where you want to put your energy and how you want to show up." Now, she is putting that energy into the circus arts.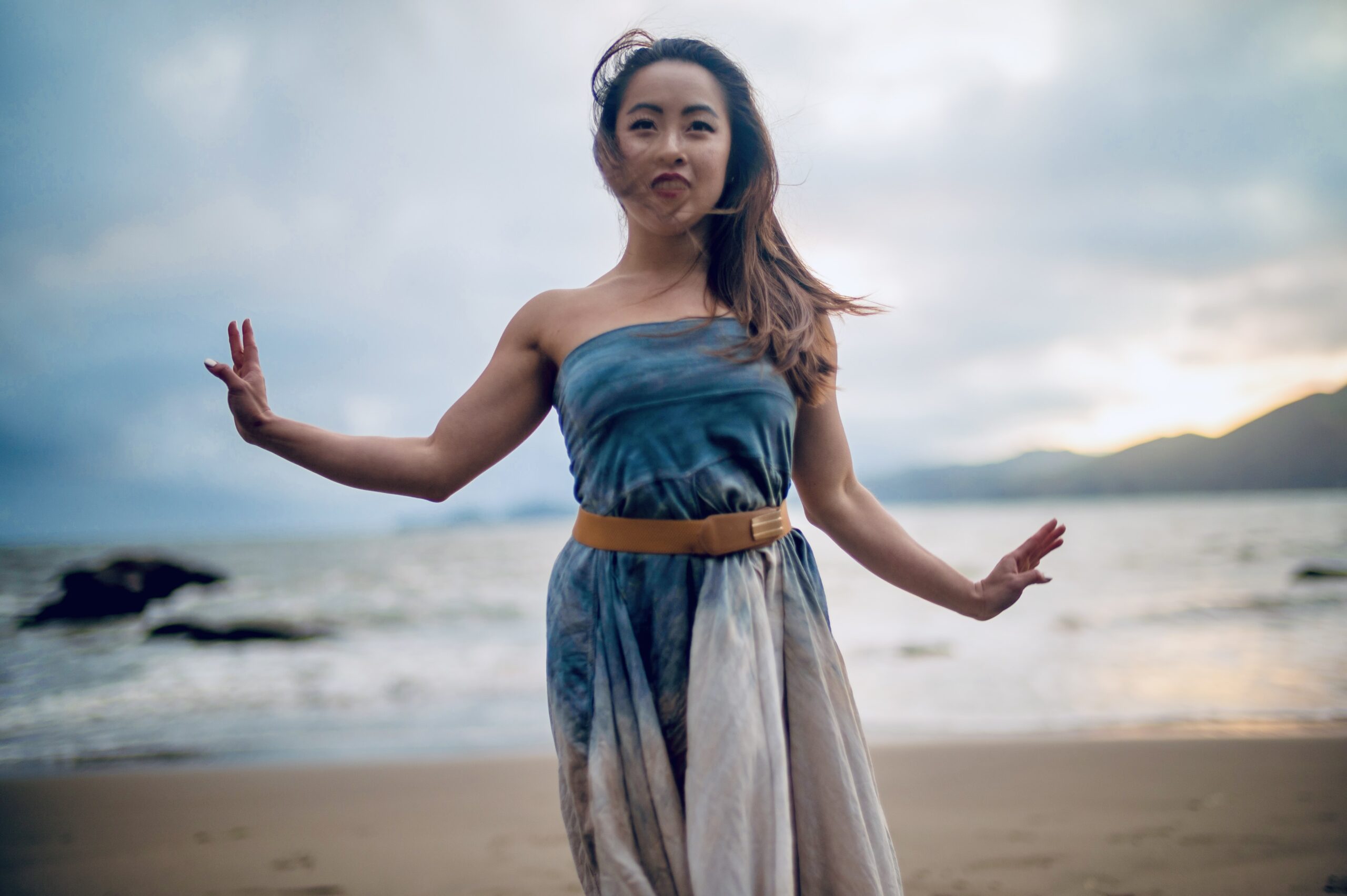 Looking ahead, one of Rosemary's ambitions is to create a duet circus act with her identical twin sister, Michelle, who is an optometrist, movement aficionado and stage performer. "We went to the same college and we performed together during that time. It's always been really rewarding performing with her. It elevates the whole experience." 
Rosemary has lived the best of both worlds. She earned her PhD from Stanford University and worked as a research scientist for Facebook. Now, she is a full-time circus performer. Asked what wisdom she has gained in her circuitous path, Rosemary says, "I would say follow your curiosity and choose the path with heart. It's a piece of advice that's resonated with me since I've heard it: All paths lead to the same place, which is nowhere. What's important is that you choose the path with heart."