It's been almost a year-and-a-half since former UCLA gymnast Christine "Peng-Peng" Lee performed her perfect-10 balance beam routine at the 2018 NCAA National Championships, helping her team clinch the national title. For Peng, that beam routine was a fairytale ending to a decorated sports career spanning 18 years. Each movement, beginning with her signature balance beam flares, and ending with her aerial-full-twist dismount, appeared effortless. Peng's gymnastics journey, however, was anything but.
Here is the story of a fighter whose mind of steel, unrivaled competitive drive and positive spirit helped her transcend seven debilitating injuries and three career hiatuses to ultimately emerge on top.
When she was 4 years old, Peng started gymnastics training at a gym near her hometown of London Ontario, Canada. At age 7, she quit the sport for the first time. "When I was younger I actually hated going to practice. All we were doing was conditioning and stretching and hollow-holds, and I felt in pain all the time. I wasn't enjoying myself so I decided to quit."
At age 8, Peng and her family moved to Toronto. It was there that she decided to give gymnastics another try, only "for fun". That same year, she started competing in gymnastics, but never thought of the Olympics as her goal. It wasn't until a couple years later that her gymnastics career began to blossom.
"When I was 10 years old, someone came up to me at a competition and asked if they could coach me because they saw I had potential. I then became more serious about the sport and decided to start training at one of Canada's top gym clubs, Sport Seneca, which is a combined school and athletic program. I had to audition to get in, and the whole program was catered towards elite gymnastics."PENG PENG LEE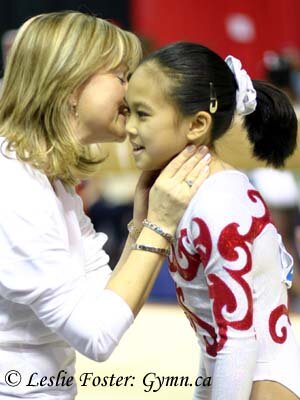 Peng trained at Sport Seneca from 2003 to 2010. She quickly moved up the competitive ranks and earned her spot on Canada's national team for 7 years. When asked how different Canadian gymnastics was from USA gymnastics, Peng says, "USA gymnastics is way more competitive. They have ten times the amount of people competing, whereas in Canada we have a handful of really good athletes, just not to the scale of the US. In the states they can kind of recycle and replace world class athletes, as sad as that sounds, because they have so many great athletes."
It is the highly competitive nature of USA gymnastics that has given rise to an abusive sports culture. When asked on her thoughts on abuse in the sport, Peng says, "I was aware of abuse later in my gymnastics career, but I was really fortunate to not have issues with abuse. I dealt with more girl-on-girl drama, rather than abuse from coaches. My parents were really good because they always guided and supported me. I think it's really sad that abuse happens, and I've had teammates who have been abused by their coaches. It's scary and disturbing. I remember one girl who was at a training camp, and she landed on her head. Her coach literally threw her off the mat, saying 'You need to move, there's somebody else going.' Once, I took a piece of chicken back with me to my room for another gymnast because she wasn't allowed to eat the main dinner meal. It really isn't okay, at the end of the day."
While she never personally dealt with coaching abuse, Peng endured adversity of her own during her gymnastics career. In high school, Peng suffered a debilitating back injury that nearly ended her career. She had spondylolisthesis and spondylitis, which meant that her back was fractured and her spine was slipping. Should she have continued training through the injury, she would have been at high risk for life-long paralysis. Peng took a year off from the sport to focus on rehab. "During that time, I was not in gymnastics at all. I basically just quit because I had been told I would never do gymnastics again." Also during that time, Peng received a recruitment offer from UCLA gymnastics. "When Miss Val recruited me, I was like, 'I don't even know if I'm a gymnast, really.' And she told me that if I came back to do gymnastics again, they would love to give me a scholarship. So that's what motivated me to come back to gymnastics, when I was in high school."
Summer into her junior year of high school, Peng returned to the sport. She graduated high school in 2011 and deferred her scholarship to UCLA for one year to train for the 2012 London Olympics. "Going into the Olympic year, I had a really great season. I was Canada's top athlete that year and my gymnastics was the best it had ever been." Peng helped Canada's gymnastics team qualify for the Olympics. Based on her scores during the 2011-2012 season, she was a contender for an Olympic medal in her specialty event, beam. Then, tragedy struck.
During podium training for the 2012 Canadian nationals, Peng was practicing her vault when she landed wrong and tore her ACL. The injury forced her to give up any hope of competing at the Olympics. "My whole world came to a halt. It was definitely one of the darkest times I've gone through only because I had given up so much and worked so hard."
While her injury was heartbreaking, Peng still got to experience the Olympics in a different way. "The head coach for Gymnastics Canada wanted to bring me to the Olympics as a team captain. No one brings an injured athlete to the Olympics! But it was really cool being a mentor for the girls on team Canada, and I still got an Olympic experience. As hard as it was [not being able to compete], I don't regret what happened, because that's a sad way to live. My parents always encouraged me to look at things from a different perspective. They would tell me that even though things may not work out the way you want them to in the moment, there are always new and exciting opportunities ahead."
Her positive outlook on life would prove necessary going forward, as the hard times were far from over for Peng. After the Olympics, she started school at UCLA. Because of her injured ACL, she had to redshirt her freshman year and sit on the sidelines as her teammates competed. Even while injured, Peng continued to diligently condition and rehab her body, eager to get back into competition shape.
Things took a turn for the worst, however, when her knee started to pain her again. "My knee started to feel wobbly, and I heavily pushed to get an MRI. When the doctors looked at the MRI, they said that my ACL was not there. I was like, 'What do you mean it's not there?' For my first reconstructive surgery, they had replaced my ACL with one from a cadaver, but that ACL disintegrated in my body because it didn't take to my blood. That meant I had to get another reconstructive ACL surgery, which meant I had to sit out my second year at UCLA as well. I was crying so hard at the doctor's office. It was extremely hard because it was the second time around."
Even during the lowest of lows, Peng never lost faith in her ability to heal. She soldiered through the rehab process once more and supported her teammates at training and competition. When asked what got her through this especially difficult time, Peng says, "I still wanted to enjoy the full college experience, so [the injury] didn't hold me back from making friends outside of athletics and doing things outside of gymnastics. That helped me get through everything because it kept my spirits up because gymnastics was not available to me at the time. It was still great being a part of a team. I was just thankful to be in college and be in LA. There was still a lot I could do outside of gymnastics. I still need to be challenged in different ways. I definitely took advantage of having a full college experience and really focused on my music. I used to have little jam sessions in the dorms where my friends would bring different instruments and we would just play whatever. Since I wasn't competing, I might as well do other things since training wasn't as rigorous for me."
By 2015, with her injuries healed, she returned to the competitive circuit, making her collegiate gymnastics debut. Because of her injuries, Peng's NCAA eligibility was extended to six years, which enabled her to compete until 2018.
The 2017-2018 season was a magical one for the Bruins, culminating in a hard-earned and rightfully deserved national title. This season was especially important to Peng, as it was her final year competing for UCLA, before retirement. Peng couldn't have envisioned a better way to end her competitive gymnastics career. That year, she earned five regular-season and two post-season perfect tens, took home the NCAA balance beam title, and helped UCLA win their seventh national title with perfect tens in bars and beam.
Peng looks back on Nationals 2018 with fondness, gratitude, and bewilderment. "UCLA was in fourth place going into the beam rotation. After Kyla [Ross's] routine, we snuck up to third. I actually didn't know we were third, though, going into my beam routine. I just thought we were fourth the whole time. I didn't know we even had a chance at winning. In my mind, I thought we needed a 10.1 on beam to win, which was impossible. If you told me we had a chance at winning, I would have been more nervous. [My last beam routine] was more of a personal thing, as it was my last routine ever. Afterwards, I'd be retiring from gymnastics. I wanted to do a great routine, but I told myself that I was going to take my damn time, since I'd never have this opportunity again in my life. Nationals was the most nervous I had been out of the whole season, because I knew it was my last meet ever. When you're doing something for the last time, you want to end on a good note. I couldn't watch any of my teammates [during the beam rotation] because I was so nervous, so when it was my turn to go, I didn't know how we were doing. I went to Miss Val and I told her, 'I'm going to take my time because this is my last routine ever.' That's the kind of mindset I had going into my beam routine. I'm never going to have the opportunity again, so why not just enjoy it? I enjoyed every second I was up there. I was smiling, and I was very aware of my surroundings during my routine. I saw the University of Utah at the end of my routine, and they were actually cheering me on! As soon as I landed, I went right to my teammates and was so happy to be surrounded by them, sharing that last moment ever of my gymnastics career. When I got a 10, it was icing on the cake. At that point, I still didn't know we had a chance of winning. My teammates and I were all crying because we did so well as a team. Then we heard a second wind of screaming in the arena, and I was like, 'What is that?' I looked up at the scoreboard and it took me a while to process. When I saw UCLA in front of Oklahoma, I was freaking out, thinking, 'What just happened?'"
NCAA National Championships 2018
Peng is quick to note that UCLA's national title was a product of the combined efforts of the entire team performing their A-game, particularly in the beam rotation. "It was cool rewatching the entire beam rotation. We needed a 9.95 average to pull it off, so to rewatch everyone bring out their best routines was incredible."
The media attention placed on the Bruins following their national championship win was widespread. The UCLA gymnastics team celebrated for weeks and were celebrities on campus. Peng, however, did not immediately partake in the team's festivities. Instead, she went to Disneyworld with her family in celebration of not only a perfect ending to one life chapter, but also the beginning of a new one.
A New Life Chapter
Currently, Peng is pursuing a career in entertainment with hopes of becoming an actress and hostess. She has a successful YouTube channel that boasts over 47,000 subscribers. She also enjoys singing, and was invited to sing the National Anthem at multiple sports' events. When asked what motivated her to pursue entertainment, Peng says, "I can always get an office job. Now I'm focusing on all the other things I wanted to do, but never had time for because of gymnastics. Now is the perfect time to do it, because I'm a young adult, and I'm grateful for the opportunity to pursue my passions. I always tell myself, if other people can do it, why can't I? That's been my mindset since I was young. I ask myself, 'Why not?' Miss Val says that too. So do my parents."
When asked what the process of transitioning from gymnastics to acting was like, Peng says, "I need to be patient [with acting] because it does take time. I get easily impatient because when you're a gymnast for so long, you're used to being at the top of your game at the end of your career, and you're used to things coming easily. But it's easy to forget about the whole journey it took to get to where I was. It took 20 years for me to get to where I was with gymnastics, so I need to be patient with the next step I'm taking in my life."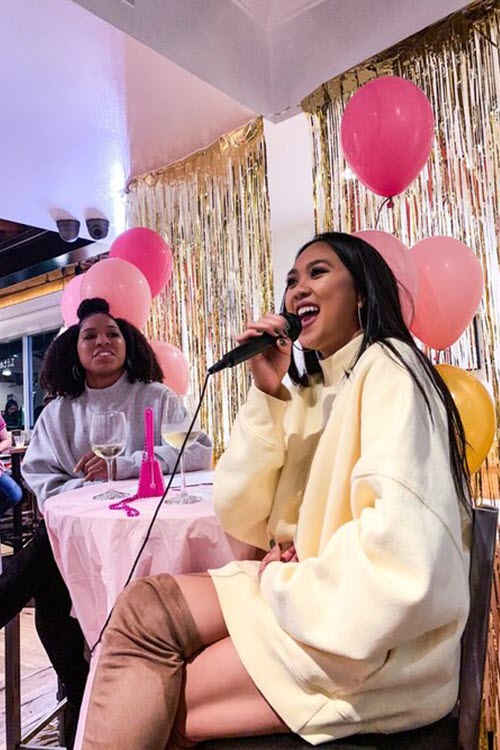 While gymnastics was her life for over 20 years, Peng hesitates to identify completely with her sport. "My parents never defined me as a gymnast. They saw me as a person who did gymnastics, but also did all these other things. People can easily get categorized as one thing. I always wanted to show off other things I could do [besides gymnastics]. It's sometimes hard post-gymnastics to get out of that box that the public places you in. Everyone views you as just a gymnast, and that's it. But for your own self, it's sometimes hard being judged that way, because it makes it difficult for you to judge for yourself who you really are."
When asked for her biggest piece of advice for young gymnasts, Peng says, "My advice is to always keep an open mind. If something is not going the way you want it to, there's always something you can do rather than can't do. My mentality when I was injured was, you can think about the things you can't do, but there are still so many things you can do. If you think of what you can do, you can hopefully learn something new or pick up something you never thought you'd do."
No matter where life takes her, gymnastics will always be an important part of it. As a way to give back to her gymnastics community, Peng and fellow UCLA gymnast Janay Honest started a YouTube show called It's HonestLee Just Gymnastics, where they give back to the sport of gymnastics by inspiring and motivating the younger generation.