Growing up, Phoenix had a natural penchant for the performing arts, winning awards in piano and ballet. Seeing Phoenix's talents in the arts, her piano teacher urged her parents to put her in the Arts school. However, her father rejected the idea, believing the arts would bring no future. When she was 13 years old, she moved to Canada with her parents. She recalls, "As a teeanger, that was a hard transition as I had to uproot myself and find new ground on the other side of the world where the few English words I knew included 'toilet and tomato', spoken with a British accent."
By chance, Phoenix discovered theater in high school. "One day I passed by the school's auditorium and saw kids rehearsing and I got curious and walked up to the drama teacher and said 'Can I be a part of this?' And that was my first acting role, a Cabaret girl in the musical, Cabaret."
Phoenix was the recipient of the Drama Award at her high school graduation and wanted to study drama in university. Once again, the idea was rejected by her family. She then received her business degree at one of the Canadian Ivy League schools, the University of Toronto. After graduation, she worked for Microsoft and Hewlett-Packard for a few years, but was disillusioned by the day-to-day monotony of a desk job. "My life could not just be working in a cubicle all day and selling computer software."
Throughout her education and corporate career, Phoenix kept in touch with her artistic penchants. While in business school, Phoenix directed a musical production called, "I Am A Star", with sold-out performances in a 300-seat theater. Eventually, Phoenix decided to go back to school to study theater. She was accepted into NYU's highly competitive Master's program in Theater Education. After getting her Master's, Phoenix taught dance and directed musical theater at New York City public schools for three years through a non-profit organization called Center for Family Life. "I was choreographing and directing musicals with over 200 kids and adults. I loved it, it was really rewarding."
While searching for an extracurricular club to join, Phoenix came across NYU's Latin and Ballroom Dance Team. She was intrigued by the idea of competitive ballroom dance, and decided to give it a shot. "I met my first partner [in the club]. We started competing on the collegiate circuit and progressed through the levels– newcomer, bronze, silver and gold. I wasn't really serious about it in the beginning. I went to the collegiate competitions and practiced once or twice a week."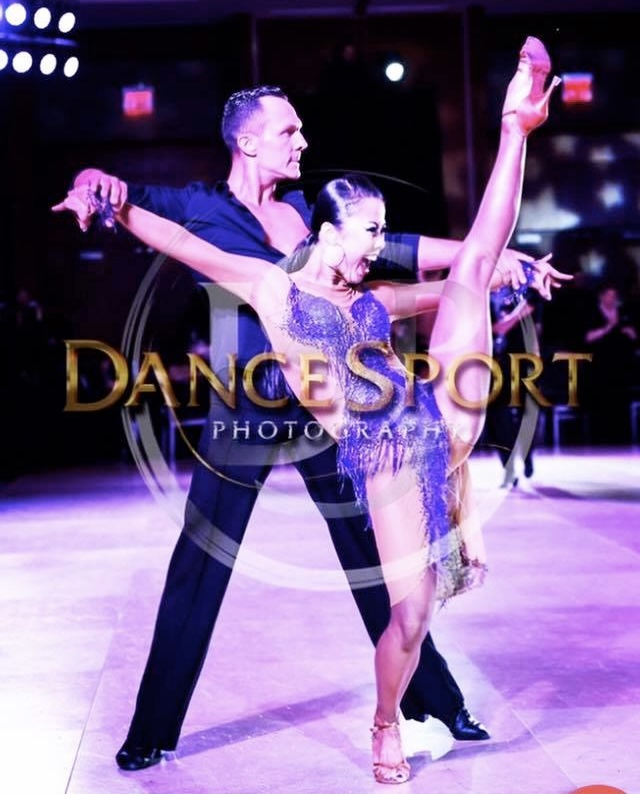 As time went on and Phoenix rose through the collegiate ranks, she started pursuing ballroom more seriously. "One day, we were rehearsing for a theater show. Backstage, I found myself practicing my rumba walks! It was at that moment that I realized I wanted to dance more." Phoenix then transitioned from collegiate ballroom to a more advanced circuit, open amatuer and professional, where the heart of competitive ballroom dancing lies. "It was a CRAZY idea because I started learning this dance style in my 20s."
As she searched for a professional dance partner, one of Phoenix's biggest concerns was her age, as she started later than many professional dancers. "I worried that people would not even want to give me a chance to try out because of lack of experience." For a year-and-a-half, Phoenix did not have a dance partner. During that time, she trained by herself in the studio, four hours a day and six days a week. "I felt like I had to practice non-stop. I was afraid of skipping a day. I worried that if I didn't practice every day, my body would forget everything. I didn't take any vacations. I would make my own practice plan and read books about dancing. I have books and books of notes from my lessons and dance workshops. I was pretty obsessed."  
When asked what motivated her to train with such intensity, Phoenix says, "I found a dance style that I truly loved. I was drawn to Latin [ballroom] because I've always loved performing, and Latin is very dramatic. My body craves every movement as I dance, my ears perk up when I hear the Samba, and dancing makes me so present and happy."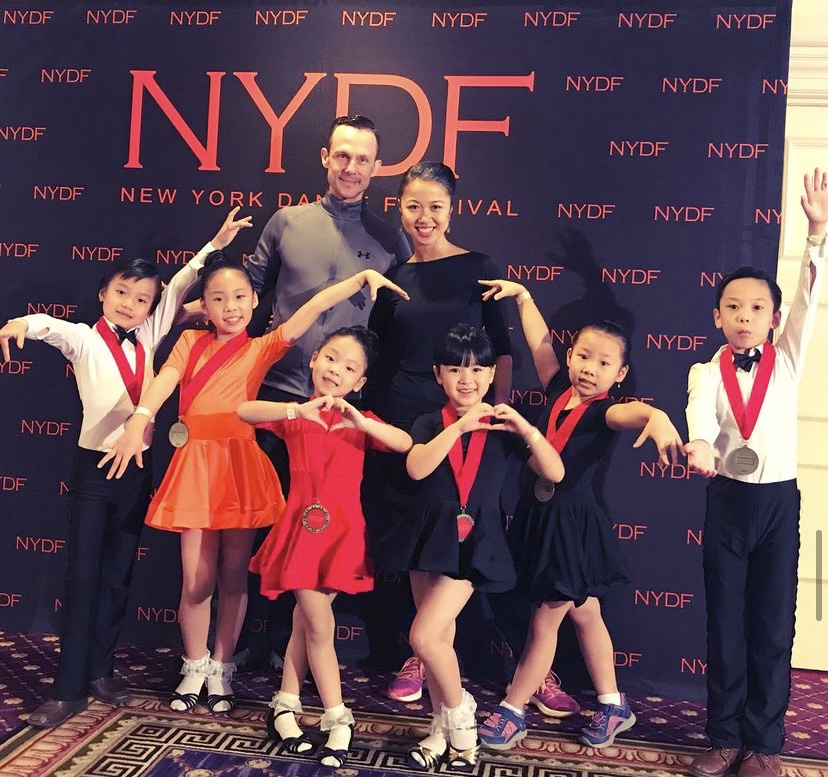 One major challenge Phoenix faced throughout her dance journey was injuries. "I would get injured all the time, the worst was fracturing my rib cage 3 times within 3 months. And the worst of it all was I didn't know why! I spent more money on X-rays, chiropractors and acupuncture than I did on dance lessons." Later on, Phoenix discovered the root of her injuries. "I had scoliosis and flatback, which means that the normal curves in the thoracic and lumbar spine are reduced, making it difficult to balance and rotate. This causes a bunch of misalignment in the body. In addition to my condition, I didn't know anything about correct body technique and didn't give myself sufficient recovery time. These factors all led to chronic injuries, which really set me back. Sometimes I'd have to stop dancing for months. That gave me a lot of fear, as I felt like time was running out and I couldn't practice."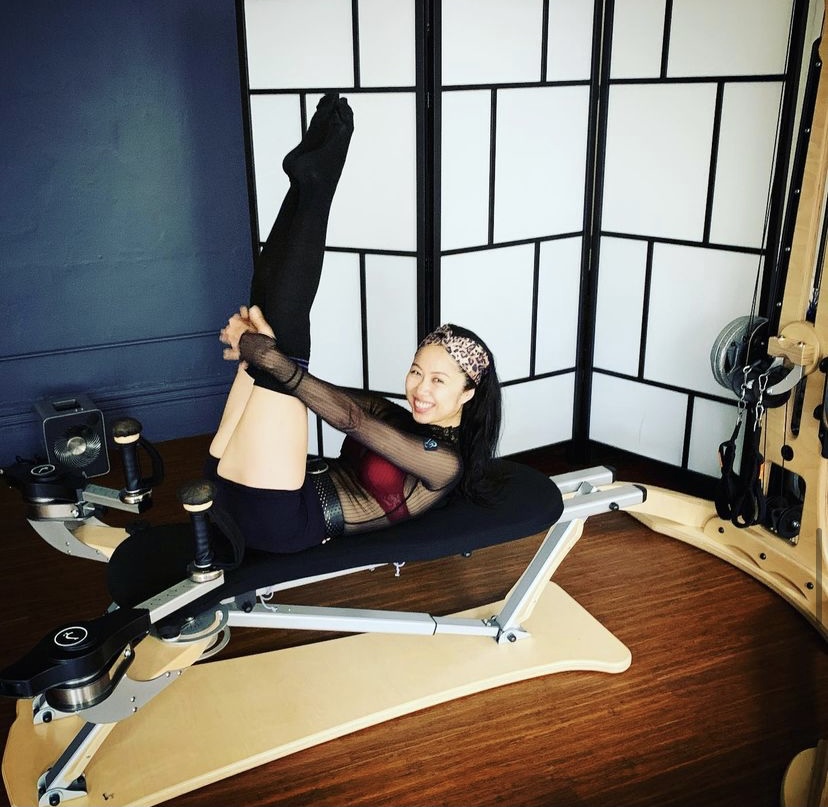 In 2017, Phoenix broke her toe, which forced her to stop dancing for three months. During that time, she discovered the GYROTONICⓇ METHOD. "I went to the studio and was immediately hooked." 
Through Gyrotonic, Phoenix gained a deeper understanding of body mechanics, which helped her tremendously in her own dancing and recovery from injuries. She is now a Certified Level 2 Gyrotonic and GYROKINESISⓇ instructor. Phoenix also teaches Gyrotonic for Dancers' Application classes and trains her clients on all 4 specialized machines (Archway; Leg Extension Unit; Jumping Stretching Board; and GYROTONICⓇ). 
In May 2020, Phoenix was invited to teach on KOROS, a dance app that offers Latin and Ballroom dance instruction created by the 10-time World Latin Champions, Yulia Zagoruychenko and Riccardo Cocci. Phoenix is the first and longest standing fitness instructor on the app. 
Looking back, Phoenix says, "I never thought of becoming a Gyrotonic teacher! When I first started, I thought it was super easy, but in reality it's very complex and multi-dimensional." One of Phoenix's biggest goals is to popularize Gyrotonic in the ballroom dance community. "You look at all the dance legends– Riccardo and Yulia, Troels and Ina, Bryan and Carmen, Slavik and Karina. All of them were doing Gyrotonic when they were competing. Not many people know that! My dream is to apply Gyrotonic to ballroom dancing and coach hundreds and thousands of dancers." 
A LIFELONG DANCER  
Going forward, Phoenix plans to continue competing all over the world for as long as possible. "Of course I want to dance at the highest level and achieve high results. But I now realize that your [competition] result is not something you can control. But what you can control are the actions you take to become your best! In order to do that, we need to keep our body healthy, train smart, and pace ourselves. Movement and dancing should not stop by the time you are 40 or 50 years old. I want to be able to dance when I'm 90!" 
Reflecting on highlights of her dance career, Phoenix says, "I remember dancing next to [world champions] Riccardo and Yulia in 2019. Their energy is amazing. Both of them are so humble and down-to-earth in real life. Another great memory was one of my earliest professional competitions. We placed second in the final and shocked everyone with how well we did!" 
Phoenix looks back on her decision to pursue an artistic career. "There are so many paths you can take in life.  One path is pretty conventional. But there is a less traveled path, where you don't always know what's going to happen, and there is more uncertainty. That is the path that I'm on right now. It's scary, but I don't want to have any regrets in the future about not pursuing my dream. On my deathbed, I want to be able to say, 'At least I really really tried in this lifetime!'" 
To learn more about Gyrotonic and Phoenix, follow her on Instagram page.