Olena Vitrychenko is arguably one of the greatest rhythmic gymnasts of her time. She is the 1996 Olympic bronze medalist, 9-time World Champion and 12-time European Champion. A legendary athlete, coach, and second of three generations of rhythmic gymnasts in her family, Olena gives us unique insight into her illustrious career and life as a legendary gymnast.
Olena was born in Odessa, Ukraine. At the age of 3, she was introduced to rhythmic gymnastics by her mother, Nina, who herself was a rhythmic gymnast and world-class coach. When asked what it was like being coached by her mother, Olena replies, "It was great. We spent a lot of time together. When I became a good gymnast and started to travel, it was also great for her to travel with me." While things can sometimes get tricky when personal and professional relationships mix, Olena says her mother being her coach actually brought the two closer to one another. "I wanted to be a better gymnast so I could spend more time with my mom."
Growing up, Olena trained about four hours every day, except for national team training camps, where she'd have 8-hour training days. As for school, Olena says, "I was always in regular school, never homeschooled, because there was no such thing in the Soviet Union. When I traveled a lot [for competitions], the school would give me homework assignments. They were very understanding, because there were a lot of sportsmen in the school."
When asked how she dealt with the grueling Soviet training regimen, Olena says, "It was not easy, but I can't say gymnastics was 'hard', because it's what I love doing. There was a lot of traveling and lots of interesting things to see. I enjoyed it a lot. Of course when you work, you're tired, and your muscles hurt, but it was not really hard work for me, because I did it from age 3. Of course there were some days when I wanted to skip practice, like every child." She laughs, adding, "I didn't have many options because my mom was working at the gym and I was there anyway."
In 1986, Olena, just 10 years old, broke onto the international competition circuit. She was briefly a member of the Ukrainian group team, with whom she won a bronze medal at the 1992 European Championships.
Going into the 1996 Olympics in Atlanta, Georgia, Olena was a serious contender for the gold medal. After placing first in the preliminaries and second in the qualifying round, the gold medal was just in reach. Despite performing four clean routines in the final, sub-par scores from judges left Olena fighting for a podium spot against her Russian rival, Amina Zaripova. She emerged victorious, settling with the bronze.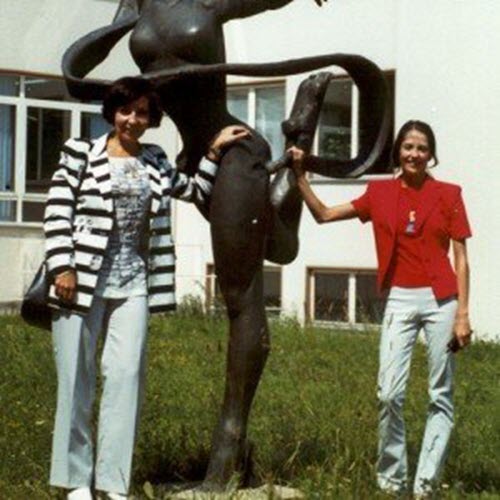 Many have argued that the Ukrainian gymnast was robbed of the gold medal. Indeed, subjective sports like gymnastics and figure skating are notorious for being influenced heavily by politics. Unlike objective sports like basketball, track and field, or swimming, where one's performance in competition is strictly determined by numbers, subjective sports are largely dictated by human judgment, which can change based on external factors.
Today, when asked for her thoughts on her 1996 Olympic performance, Olena says, "I am happy that I could show my best in that Olympic Games. I felt that the public liked me– still today, I get some very nice messages from people who like my gymnastics. Sometimes, we don't need to get the gold medal. I was happy and satisfied with my work."
Though she did not win Olympic gold, Olena will forever go down in history as one of the rhythmic gymnastics greats. The following year, she earned her redemption, becoming the 1997 European and World Champion.
Following the 1997 competitive season, the already-present political issues took on a life of its own, becoming almost the sole predictor of Olena's placement in competitions. It all came to a head when she was placed 17th at the 2000 European Championships. She withdrew from the competition in protest.
Olena's final competition was the 2000 Sydney Olympic Games, where she placed fourth after delivering clean performances.
On the topic of politics in rhythmic gymnastics, Olena simply states, "Politics is everywhere, not just in sports. It's human nature that you cannot change. If you will be the best, it will show, and nobody can change anything."
Olena retired after the 2000 Olympics, stating that politics would hinder her from achieving further success in the sport. She was 24 years old. When asked how she was able to remain in the sport for much longer than most of her competitors, Olena says, "There are a lot of factors. The main thing I did was try to maintain a healthy lifestyle, and train smart to keep in good shape and avoid injury." Of course, it was ultimately her love for the sport that fueled her spirit and determination to compete for as long as possible.
As for her transition out of competitive gymnastics, Olena says, "I was 24 years old when I retired and was dreaming about a family and kids. It was a smooth and nice transition. I had a plan to retire after the Olympics and finish the season. We built a gym in Kiev, and my mom and I coached the national team of Spain. This helped us continue to have a life [after retirement]. I still did some exhibitions. Friends around me also helped me feel not as lonely, so I didn't fall into a depression."
Olena first met her husband, Oleksii, a military pilot, when she was preparing for the 2000 Olympic Games. In the beginning, he did not know who she was or of her fame in the gymnastics world; it was only after mutual friends introduced them that the two grew close.
They have been married for 19 years.
Looking back on her career, Olena reflects on the fame and publicity she experienced growing up. "When I began to realize [the fame], I was already 19 years old. For me, it was very important how young gymnasts saw me. I tried to be an example for them and showed them the best of what I could do."
How did Olena cope with the immense pressure of representing her nation on the international stage and constantly fighting against her rivals to remain on top? Olena says, "I never really had performance anxiety. Of course there was adrenaline, because you want to do well. I didn't really experience the same stress that I see in girls now. Maybe it's because I grew up in the Soviet Union; there was so much excitement about traveling to compete. It wasn't really stressful for me. I don't know, maybe I was just born like this. I really like competing."
As for pre-performance rituals, Olena did not have any in particular. "I don't think I had rituals. I did my makeup and hair, pretty much doing the same things before competitions. I liked to watch movies and read books, and not overthink about [the competition]. When I was a gymnast and traveling, I always liked to go out to see the city, go on some excursions, visit museums, watch shows and musicals. It is important to open your mind and try to not overthink. That way the competition will feel more natural."
Upon retiring from competitive gymnastics, Olena and her mother built a gymnastics school in Kiev. They also coached gymnastics in Spain for ten years. In November 2014, she opened her own rhythmic gymnastics school, Vitrychenko Academy, in Chicago Northshore.
When asked for her thoughts on what the most effective coaching methodology is, Olena says, "When kids are really small and just beginning, you should make them love the sport. They should love what they are doing. If your coach is using just fear tactics, nothing will work. There comes an age when they need to feel this fear to some degree. Sometimes kids are not strong mentally. They need to be strong. At the age of 15 or 16, your coach should become your friend. The coach can tell their opinion if [the gymnast] does not do well, but in the end, athlete and coach really need to be friends. If you look at the highest level gymnasts, coaches and athletes have a really good relationship. [Coaches] can yell and tell you that you aren't doing well, but at the end of the day there should be mutual respect."
When asked how she helps her gymnasts overcome performance anxiety, Olena says, "Coaches need to have an individualized training plan for each student. It really depends on the kid. One may need hugs and kisses and nice words [before competition], for another kid I may need to be more strict with, and yet another I just need to leave alone, and she will be fine by herself. When the kid is small, try to find a connection. After 15 years of knowing them, I can know what they need in the moment before competition."
Olena now has two sons David (age 17) and Cesar (age 15) and a daughter, Aurora (age 11). All three children are involved in competitive sports. David and Cesar have done wrestling, swimming, and tennis. Aurora, like her mother, is a rhythmic gymnast. She is coached by Olena and is currently competing in Level 10, the highest level of gymnastics in the US.
When asked what it's like coaching her own daughter, Olena says, "It was always my dream to have a daughter in rhythmic. I was super happy with my mom when I was a child. [Aurora] is the third generation of gymnasts in the family. Right now it's great coaching her. She is still small. Sometimes she needs to be pushed, but not often."
As for her own aspirations for her daughter, Olena says, "I just want her to be happy. I want her to do gymnastics as long as she enjoys it. I want of course for her to be a great gymnast. When she was in 2nd grade, she said, 'I want to be like my mom, but better!' She understands that it wouldn't be easy, but if she wants to be dedicated then I will help her. On the other hand I want her to study well in school and get a good education. That's why I came to the US. I believe in the American dream. You work hard and get what you want. I want her life to be successful, and most importantly that she will do what she loves."
When not at the gym, Olena loves spending time with her family. Together, they travel the world and discover new cities and countries, watch movies, and just enjoy each other's company.
When asked what last pieces of advice she would impart to young athletes, Olena says, "Love what you do, and do it to your maximum. That's it."